A blockchain enabled consortium led trade finance solution
UTC is proud to be the first and only national trade finance platform of the country built on nascent technologies such as blockchain and artificial intelligence in order to inspect and validate trade invoices and fraudulent activities on its platform.
Our unique approach reflects collaboration and co-creation combines together expertise from e& enterprise internal experts on the blockchain, leading external developers and drawing knowledge from the domain owners themselves.
We strongly believe together matters in creating industry-wide solutions wherein the applied approach has led to the country's first commercialized blockchain distributed application (ĐApps) with a consortium of banks.
Our solution helps in handling multiple types of trade-related documents which are inspected, validated and tested for authenticity. UTC's blockchain ensures trust, transparency and privacy between multiple organizations. A combination of leading-edge technologies has been assembled into a robust platform deployed on the e& enterprise e1 cloud
Blockchain

Artificial intelligence

Cloud native

Machine learning

Rules based engine
Our blockchain platform records information in a secure manner that makes it difficult or impossible to change, hack, or cheat the system. Blockchain in its genome offers trust, transparency & privacy between multiple organizations in the consortium network.
Our AI's superpowers come from its ability to analyse, process, and identify patterns in real-time. Additionally, our AI provides deep insights and makes recommendations based on its findings, which increases the efficiency and effectiveness of decision-making.
Our platform is hosted on e& enterprise E1C cloud & leverages the advantage of inhouse homegrown cloud technology. The platform is scalable & portable enabling the environment to be enhanced by adding new nodes in no time. Containerisation-based microservices enables the platform to be vendor-neutral.
The machine learning capability embedded in the platform parses the data, learns continuously and aids the banks by rightly highlighting the risks involved in the financing process.
Our engines deployed on the platform are specifically designed for trade finance businesses that can dynamically execute one or more rules that are runtime integrated. Business rules are composed of risk scoring, fact-finding and also simplify complex data analysis.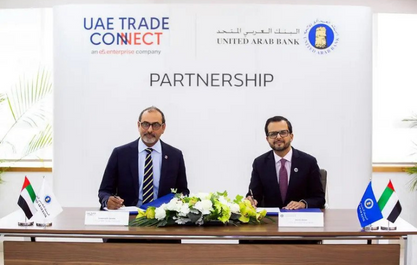 UAE Trade Connect is pleased to welcome United Arab Bank to our consortium taking the total length to 11...